2000-07 Week 2 (Suicide)
---
Explaining suicide
stats.core1254: still looking similar to before. Fitness still way off. By this run, I was producing genetic diversity vs. distance stats:
(I just generated the above graph. It looks like there might be the barest of positive correlations averaged over time.)
I also had the chromosome map in these runs:
This maps average suicide probability (by colour) against environmental conditions (vertical axis) over time (horizontal axis). I have no idea what each of the conditions are in the above (particularly since I have no log file). Nevertheless, it doesn't look like there's much conditional suicide, except that the 2nd 1/8th from the top looks to have higher probabilities than the 3rd 1/8th. Here is the average suicide probabilities (vertical axis) for each condition (horizontal axis) for the period of the above graph, along with the confidence interval:
(This is the best method I can find of displaying it in Excel.) This seems to say that there are real differences between several of the mean suicide probabilities for each of these conditions.
I also had frequency distributions of the observations being made by agents. Here are four fd graphs, one for each observation: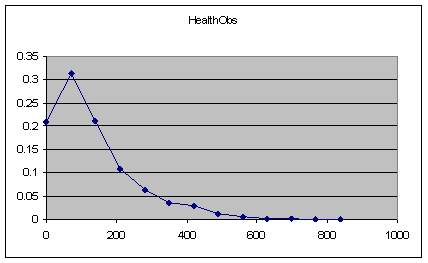 The food observation is quite strange. I think there may have been a bug which meant that agents couldn't observe how much food there was. OR, agents are observing their environment correctly, but the number of times that there is no food completely swamps the number of times that there is food. hmmm, I just calculated that there would be food around the place 5% of the time. I was cyclically generating 60 units of food per cycle on average, and the average population was about 800. On the assumption that all the food had been consumed by the time 100 agents had had a turn, we would find only 1/8 (12.5%) of agents would have any food in their environment (and much less in drought periods, and slightly more in springs). This would give a figure that is damn close to seeing food 5% of the time, so the graph makes sense.